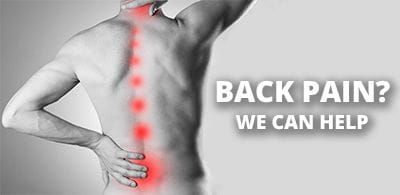 Do you suffer from these back conditions?
Herniated, Protruding or Bulging Disc
Spinal Stenosis
Sciatica Nerve Pain
Lower Back Pain
Neck Pain
Spinal decompression is the non-surgical treatment option to help alleviate pain associated with the lower spinal region.
Spinal decompression therapy uses gentle, non-surgical distraction (stretching) and relaxation to create negative intradiscal pressure. This may help to pull back spinal material that has been protruding and create a positive blood supply flow that accelerates natural healing. With decompression treatments the diffusion of water, oxygen and nutrient-rich fluids is encouraged to help your body heal itself.
Dr. Lanoue has been providing spinal decompression and chiropractic adjustment care for over 25 years to the Mississauga community.
Our extensive experience treating bulging, herniated, protruding discs and sciatica nerve pain through a series of customised treatments has given our patients their mobility back. We want to invite you to visit us so we can help you experience back relief.
Want to become your own success story? Visit Dr. Lanoue to experience our customized treatment program and live pain free!